11 Fun Family Events This Fourth of July!
The San Ramon 4th of July 2022 Celebration Concert will feature Pride & Joy, one of the best Bay Area party bands playing all of your favorite songs. The evening will begin with patriotic music from Olympia Fields and a tribute to our Veterans.
Pride & Joy is the Pride of the Bay Area and a Joy to anyone who loves to dance. They have achieved this by presenting the most timeless pop/soul music of our time in an electrifying high-style show that pulls the audience directly into the heart of their performance. "It's always been natural for us to reach out and draw in the audience. We make the people feel they're part of the performance because they are," says Pride and Joy founder and bandleader Coleman Burke. "That's what Pride and Joy has always been about...creating a great feeling. That's as important a part of our show as the work we put into our look, choreography and arrangements.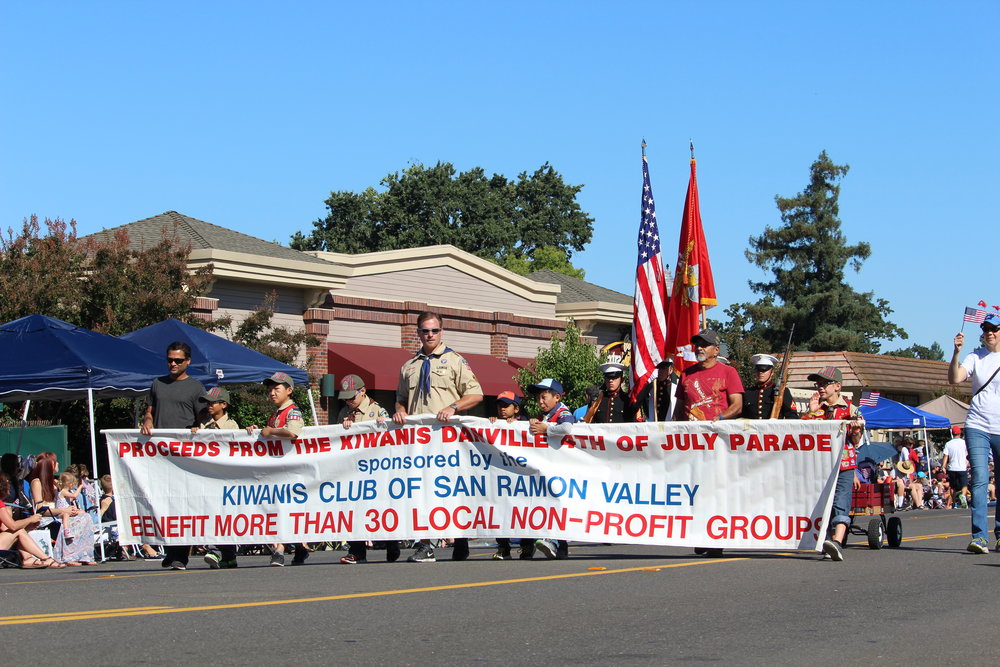 Head down to Hartz Avenue in Danville on Monday, July 4th, for the return of one of the largest Independence Day events in the Bay Area! This year's parade theme is Celebrating our local Olympians to recognize our local community members who have taken part in the Olympic movement. The parade will take place from 9am to 12pm. The street they are walking down will be Hartz Avenue, Downtown Danville.
This event is a wonderful way to spend the 4th! Benicia's City Park is filled with arts and crafts, delicious hot food, live entertainment and children's activities. Fireworks start around 9 p.m. at the foot of First Street making this a great event for the whole family. It will be taking place on 90 1st Street, Benicia, CA. The picnic will take place from 12pm to 7pm.
Bring your lawn chair or blanket and settle in for a fun evening on the promenade. Enjoy local food trucks, beer, wine, beverages available for an Independence Day outing before the fireworks show. Kids Zone features face-painting, glitter tattoo artist and more. Learn about the history of some of Mare Island's famous ships including the very first, the USS Saginaw and the very last, the USS Drum. Games and prizes will be part of the July 4th celebration.
July 4th Celebration at the Waterfront Complete with: Fireworks, Artisan Craft, Giant Kites, Beer Garden, The Kiteman of Martinez, Food Courts, Parade Floats, Classic Cars, Live Music and more!
Enjoy the Annual 4th of July Flag Display Courtesy of Tom and Thomy with The Village Realtors! The display will take place from 8am to 4pm on 1048 Grant Avenue, San Leandro California.
Live music all day long on 2 stages, great food, vendors and lots of kiddie stuff too! The celebration will take place in Waldie Plaza, Antioch.
Admission is FREE to the public and donations are always welcome. Come enjoy sports, food provided for a small donation, a dance competition, entertainment, and fun for the entire family!
The July 4 Celebration typically includes community activities throughout the day, culminating with a concert at 7:00pm followed by a spectacular fireworks display.
Join us for the annual Clayton 4th of July celebration. This year's theme is "Stronger Together". Kicking off the event is the Pancake Breakfast at 7:00am, followed by the Kids/Grand Parade at 10:00am. The free Parade takes place on Main Street in historic downtown Clayton. The Pancake Breakfast, sponsored by the Rotary Club - Clayton Valley Concord Sunrise, is located next to Endeavor Hall. Cost of the breakfast is $10 for adults and $7 for kids 12 and under. See City of Clayton website for Grand Parade entry forms. https://claytonca.gov/our-city/annual-events/4th-of-july-parade/
Formerly known as "Haley's Run", the 5-mile run or 2-mile walk starts at 8am at the Orinda Community Center in Orinda, CA and kicks-off the city's 4th of July festivities. The 2-mile walk is paved and stroller/dog friendly. The 5-mile run continues on from the 2-mile walk onto East Bay Municipal Utility District trails, usually only accessible by permit. After the run, stay for a pancake breakfast, small-town parade and park activities all day long!
Selling Your Home?
Get your home's value - our custom reports include accurate and up to date information.
Get Home Value