Family Friendly things to do President's Day Weekend!
1. Ski & Snowboard Weekend Getaway
Escape the city and head to the mountains for a family ski & snowboard weekend! Lake Tahoe is just a 4-hour drive from San Francisco! We love the Heavenly Mountain Resort. ⛄☕
2. City-Guide Tour with MUNI
Take a city-guide tour using San Francisco's own MUNI Bus Line! Here is a guide to all the scenic stops. Be sure to snap lots of pictures!
3. Have a Movie Date
On Monday, relax in a comfy theater chair and enjoy a kid-friendly flick at the movies! An easy place to take kids of all ages who don't have school. The kid's are occupied for a few hours and you get to relax!
4. Explore Lindsay Wildlife Museum
In the East Bay, treat your kids to a day of learning and exploration at the Lindsay Wildlife Museum. 🐦🐍🐹 Voted the #1 thing to do in Walnut Creek! On Fridays everyone gets Free Admission!
5. Visit Aquarium of the Bay
Head to Fisherman's Wharf at Pier 39! There is an amazing deal at the Aquarium of the Bay! $15 Children Admission, or $70 for a family of four! (plus a 6x8 photo) Your kids will love walking through the tunnels and watching the sharks swim over them!
6. Enjoy a Picnic Day
Have a Family Picnic Day at Diablo Foothills Regional Park! 🍃 Hike around the trails (dogs are welcome too) and finish it with some yummy food! Check out these awesome picnic tips!
7. Jump Around at Sky High
If the kids have some extra built-up energy from missing school, take them to Sky High in Concord! They can bounce around for a few hours and tire themselves out! 💤 There is an awesome deal happening, only $11 for 2 hours of jumping time! (M-TH)
8. Take an Art Class
Let your children explore their creative side with art! Color Bundles Art Studio in Danville offers classes that allow parents and children to paint alongside each other! (By Appointment Only) 🎨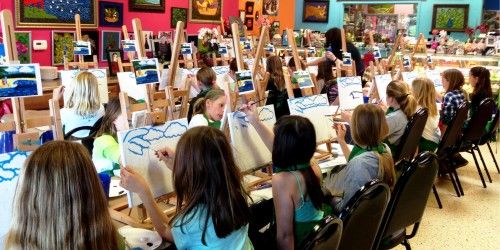 Enjoy your fun Family time! Let me know if you try any of these activities! I would love to know :)